Salesinn.com Guarantee for Buyer Protection
While the vast majority of saleinn.com transactions are trouble-free, there are occasions when transactions do not work out as expected. When buyers face any transaction problems, our saleinn.com Guarantee Program can be of great help.
Buyer transaction problems could be of the following two types:
Paying for an item and never receiving it; or

Receiving an item that is significantly different than what was described
The coverage limit is for transactions where payment was made using salesinn.com payment service, maximum up to Transaction amount (item price + shipment cost) paid for by the buyer to the seller.
In case of an "Item not as described dispute" the buyer will be required to send the item back to seller. In such cases, salesinn.com will, on a best effort basis provide additional assistance to the Buyer to return the shipment back to Seller. This shall apply only for shipments received in India and those which are to be returned to a location in India. In such cases, salesinn.com may provide the Buyer an option to return the item to seller through a courier company salesinn.com. If the Buyer chooses to return the item to seller through such courier company, the Buyer shall not be required to pay any courier charge(s) to the salesinn.com engaged courier company at the time of such return.
However, Buyer may choose not to return the item through the courier company engaged by salesinn or in the event the location of the Buyer is not serviced by the courier company engaged by salesinn, then the Buyer may make his own arrangements to return the item to the Seller at the Buyer's own cost. The Buyer shall retain and provide salesinn a valid proof of delivery of such shipment (Valid proof means the buyer providing a valid & online track-able proof of shipment which should consists of the sellers address, weight of the product and amount paid to the shipping company). On receipt of the valid shipment proof, salesinn will investigate the same and at its discretion may issue a salesinn coupon to the buyer equivalent to the shipment cost. Buyer can redeem this salesinn coupon subject to coupon terms. Buyer shall not be entitled to receive this shipment cost in cash or any other payment mode other than aforesaid salesinn coupon. Further the extra charges paid for by the buyer (like Octroi, Custom duties) will not be reimbursed to buyer by salesinn in any mode either through salesinn coupon or otherwise. International return shipment cost shall not be reimbursed in any manner.
Note: Retain the photocopies of the all offline correspondence with the seller.
Eligible transactions
You should be a fixed price buyer of an item listed and transacted on salesinn.com site.

Your item should be legal and in accordance with salesinn.com Listing Policies and User Agreement.

Payment should have been made to the seller in good faith and the proof of payment will have to be documented
Non-eligible transactions
The following items are not eligible for protection coverage under the salesinn.com Guarantee program:
Items paid for through payment modes which are not acceptable as per salesinn acceptable payment methods policy

Items that have been altered, repaired, discarded or resold by the buyer

Items which are picked up or delivered in person

Intangible items, such as services or digital items

Double payment or overpayment

Buyer's remorse (items bought by mistake or if you change your mind)

The buyer has violated or found to be violating any of the salesinn policies or has misused or found to be misusing salesinn eco system (including members related account)

The transaction amount is already refunded to the Buyer by the Seller or through a chargeback being raised by the buyer for the said transaction

Buyer is not willing to co-operate with salesinn in resolving the concern

Buyer has not paid for the item committed to buy

The product of following categories shall not be eligible for coverage under salesinn Guarantee claims for Item Not as Described / Item Not as Expected reasons

Personal Care items like:

Women's Lingerie and Sleepwear items

Men's Essentials (Vests, Briefs, Handkerchiefs, socks)

Body care & hygiene products post usage

Face care products post usage

Perfumes & Fragrances post usage

Hair Care products post usage

Eatables like chocolates

Non redemption of discount voucher(s) post purchases which are meant for purchases/ Buying

Books

Movies & Music DVD/ CD post usage

Technical defects in products for which a valid manufactured warranty is valid products

Product sold basis personal inspection by Buyer
Buyer Eligibility Criteria
The Buyer should be a confirmed user of salesinn from the time of transaction till the period when the protection is availed
Payout to Buyer would be made only if there is no money which is overdue to salesinn incase the buyer is also a seller on salesinn
There should be no previous instance Fraud chargeback's raised by the buyer on his previous purchases made on salesinn
Leaving Feedback after your dispute concern is closed by salesinn
After your dispute (item not received or item not as described) raised with salesinn is closed, we encourage you to leave Feedback for the transaction. Please be honest, fair, and factual. This will help make other members aware of your experience and help keep salesinn a safe place to buy and sell.
How to request Salesinn Guarantee protection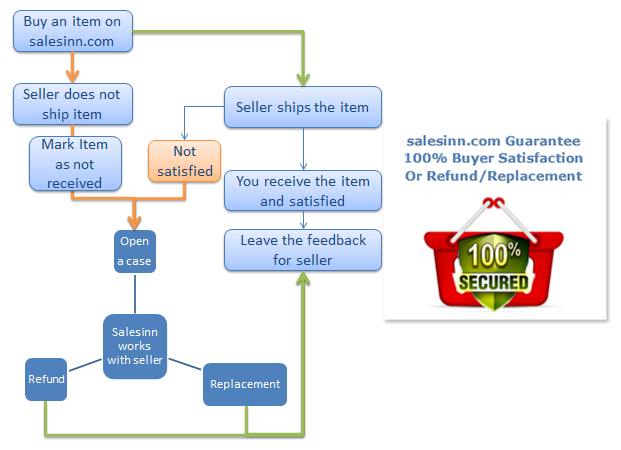 Steps to file a transaction concern
Incase the buyer has not received the item he has paid for, or is not satisfied with the product received from the seller, he has an option to report his concern using any one of the following -
Mark the item not received in 'My Orders', which will send an automated escalation notification to salesinn, a case will be opened by salesinn on behalf of buyer

Contact salesinn using any of the available support channel (Email to 'support@salesinn.com', or Phone support)